A slide presentation by Wendy Wise
The Cloud Family in Wiltshire
A report given Friday Evening, September 16, 2016
at the Cloud Family Gathering in Galveston, Texas
by Wendy & Russ Wise, Peggy & Robert Bamberg and Glenda Manis
regarding their recent trips to England.
---
Slide 1
County of Wiltshire, UK
Salisbury, Stonehenge, Devizes, Avebury, Lacock Abbey, Calne. Old Sarum iron age hillfort just northeast of Salisbury about 3 miles.
---
Slide 2
Butser Ancient Farm
Wiltshire has been inhabited for several thousand years. Sarum (the "old" Salisbury) dates back before the Romans, and Salisbury Cathedral was completed in the late 1200's. These reconstructions give an idea of how those early Wiltshiremen lived. The builders of Stonehenge, in Wiltshire, might have lived in these type of homes, too.
---
Slide 3
Ancient & pre-Roman Building Styles
These replicas have all been constructed in the last 10-15 years based on discoveries made in several areas of southern England
---
Slide 4
Devizes is the center of this area. Southbroom is the area where St. James Church is now located, but was in Bishops Cannings Parish until about 1865. Also marked are Quaker sites of Rowde and Bishops Cannings. Roundway was a major battle in the Civil War. The Parliamentarians won, and came into Devizes. Cannon holes are still visible on the church tower. The dotted line marks Quakers Walk, which leads out to Quaker Road.
---
Slide 5
Robert and Phoebe Cloud were in Seend, as well as (I believe) William the Immigrant's daughter, Susannah. (See later slide.)The dates fit correctly for her to have actually married John Lucas, a tailor in Seend. The Bezar and Withers families were primarily from Bishops Cannings.
---
Slide 6
Devizes
with Southbroom
---
Slide 7
Devizes, Wiltshire, U.K.
St. James Church sits in the triangle rather than south of Church Walk. The cemetery (can only take cremations now) runs right up to the edge of the pond. See pictures.
"The Crammer" is a pond that has been here for several hundred years.
Quaker burials moved here in the 1800's. Quakers did not mark burial sites.
St. John's Alley
---
Slide 8
St. James Church, Southbroom, Devizes, where William Cloud was baptized.
---
Slide 9
St. James Church, Southbroom, Devizes, Wiltshire.
The first church here was a "chapel of ease" (easier to get to than the main parish church), probably built around 1461. Possibly before that it was attached to a leper hospital. Evidence shows that a small church may have been here from the 1200's. In 1878 it became the garrison church of The Wiltshire Regiment, and was enlarged. This church has a fascinating history, found on the church's website.
---
Slide 10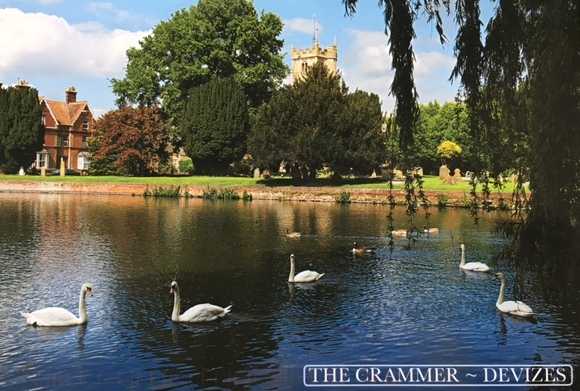 The Crammer with St. James' tower nestled in the trees.
---
Slide 11
St. James Southbroom Cemetery.
The cemetery was expanded in 1844 by taking in part of the Crammer. It was full by 1876, and closed. The city cemetery was opened about the same time.
---
Slide 12
St. James Southbroom Cemetery.
Looking from the church entrance across the cemetery to The Crammer, thought to be the pond where the tale of the Moonrakers originated.
---
Slide 13
">
Cannon holes in the tower from Civil War, 1641-1645
---
Slide 14
Doorway in the Tower, oldest part of church.
---
Slide 15
This chest dates from at least the 1600's, and possibly earlier. Now used to store vases, etc.
---
Slide 16
The memorials were saved from the old church, and re-installed in the new church in 1831.
---
Slide 17
St. John's Alley, Devizes
A place every visitor must see!
---
Slide 18
St. John's Alley, Devizes
Note the "drainage ditch" down the middle. This particular shop is now a hat shop.
---
Slide 19
Step out the door carefully.
---
Slide 20
The "upper crust" going to the Ascot Races often bring their dresses to this shop (about 2 hours from London) and have hats made to order to go with the dress. While we were there, a woman brought in a dress, and everyone in the shop made suggestions for ribbons, flowers, feathers and so forth. Such fun!
---
Slide 21
The doors are short.
---
Slide 22
Across the walk, still low doors. Red brick looks much newer – note the way the windows are put in. And straight lines.
---
Slide 23
The second floors are really close.
---
Slide 24
Bishops Cannings
Church of St. Mary the Virgin, Bishops Cannings, early 1200's, with some Saxon evidence.
---
Slide 25
Seend
---
Slide 26
Holy Trinity Seend was built around 1400.
---
Slide 27
Gravestones unreadable.
---
Slide 28
The high pulpits were very common since no microphones! Helped the pastor's voice to carry.
---
Slide 29
Street coming in to Seend. Road is very wide for an old village. Also, a sidewalk has been added.
---
Slide 30
John Lucas (Lukens) married Susannah Cloud.
British Isles Vital Record verifies her birth date, and place and says a Susanna Cloud married a LUCAS, John, Marriage Date: 4 May 1674
Recorded in: Rowde, Wiltshire, England. At the time of the marriage, her residence was Seend and his was North Bradley. (assumption that William and family in Seend also)
Susanna's spouse was John Lucas, although her father's will spells her name as Susanna Lukens. She was still living in England in 1702.
John Lucas was Christened on 5 Dec 1654 in Sutton-Veney, Wiltshire, England.
Sources: In English & Wales Christening Index 1530-1980 and In the Wiltshire, England Marriages 1538-1837
I put this information here so if anyone didn't have it, I would know where to find it.
---
Slide 31
From Wiltshire and Swindon History Centre, Chippenham
---
Slide 32
---
Slide 33
Lacock Village
in Domesday Book 1086
Picture courtesy of the nationaltrust.org.uk
---
Slide 34
Village of Lacock, mentioned in the Domesday Book (1086). Calne and Bishops Cannings also mentioned. Devizes is 11 miles away, Calne, 9 miles and Seend, 8 miles.
---
Slide 35
Calne
Yellow roads indicates the oldest areas of Calne.
---
Slide 36
Calne
Quaker Meeting House on Wood Street
Lansdowne Hotel
Calne Heritage Centre
Almshouses
Oldest House in Calne
The Weavers House
---
Slide 37
Patford Street – seen on map
---
Slide 38
What is now the Car Park was at one time the stable yard.
---
Slide 39
Church street note the orange house above Russ's head –
---
Slide 40
This orange-colored building is the oldest house in town, according to the woman who lived next door!
She asked if she could help us find something, and we told her we were looking for the oldest parts of town. She pointed to the house next to hers!
---
Slide 41
Oldest house in Calne, Wiltshire, according to next-door neighbor!
Taken from google.com/maps/streetview
---
Slide 42
You've got to love this door!
---
Slide 43
Just an old building on Church street – with low door and low windows.
---
Slide 44
Almhouses on Kingsbury street, built in 1682
---
Slide 45
And the plaque giving the year and dedication
---
Slide 46
Proclamation Steps
Proclamation steps – sort of like the balcony of St. James Palace in London, where important announcements were made.
---
Slide 47
Quaker Meeting House on Wood Street in Calne, built in 1672
Quaker Meeting House in Calne. The burial ground behind the building is still there – wish I'd known that when we were there! Building has been sold a couple of times, and is currently vacant.
Taken from google.com/maps/streetview
---
Slide 48
Where the door is in the center was once the carriage entry into the stableyard (now car park)
---
Slide 49
Now the Lansdowne Hotel, part of this building was built in the 16th century and was an important coaching inn, so our Cloud family would have been very familiar with it.
---
Slide 50
Town Centre, Calne
---
Slide 51
Church Street, Calne
By Brian Robert Marshall, CC BY-SA 2.0, https://commons.wikimedia.org/w/index.php?curid=13489971
---
Slide 52
Chippenham
County town. Wiltshire and Swindon History Centre is here, with archives for the county.
---
Slide 53
Cloud land in Chester Township, Pennsylvania, USA
And just in case you haven't seen these maps……
---
Slide 54
Cloud land in Chester Township, Pennsylvania, USA
This is the oldest – with first names written out.